Attended by more than 50 people from across Europe and Canada, the new Horizon Europe project REWilding and Restoration of InterTidal sediment Ecosystems for carbon sequestration, climate adaptation and biodiversity support (REWRITE), held its kick-off meeting on 25-26 October 2023 in Nantes, France on the premises of the Nantes University.
The project brings together a network of 10 case studies and 25 partners from 11 European countries. Among these partners, eight are situated along tidal coastlines, with additional representation from the UK, Canada, and the USA. Officially started on 1 October 2023, REWRITE's kick-off meeting aimed to set in motion all project activities within the consortium. The meeting's agenda included a dedicated session on "sister-projects," emphasising on identifying potential synergies and collaborative opportunities with other European initiatives focusing on rewilding, restoration, Nature-based Solutions, and climate support. Amongst the list of such projects are WildE, Naturescape, and Adapto.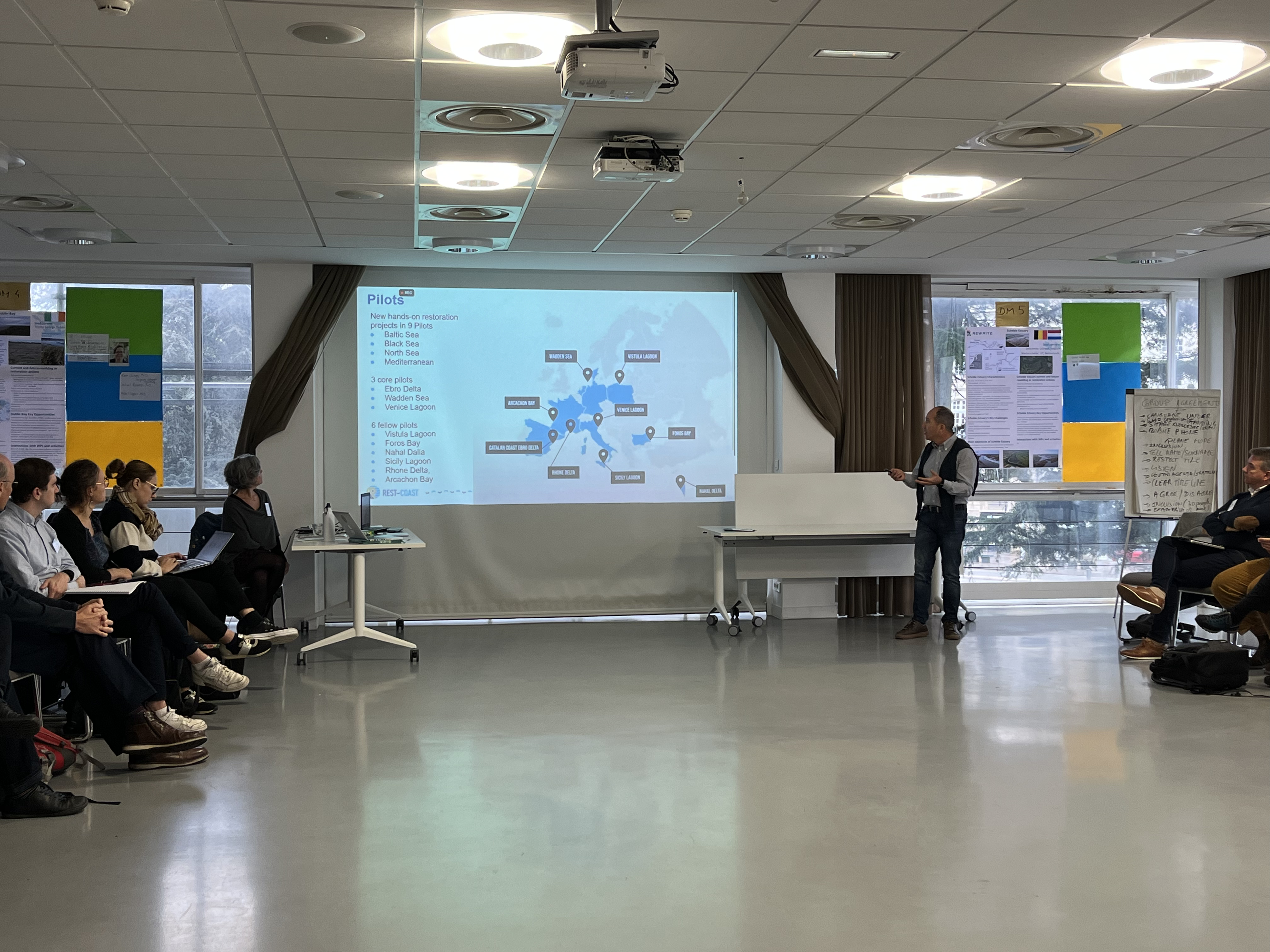 Despite being a "sister project" to REWRITE, REST-COAST is closely aligned with the aims of the newly-launched project and thus was presented at the kick-off meeting. Umberto Pernice (PCI), leading the task focused on developing business plans for upscaling NBS restoration in coastal regions and serving as a partner in REWRITE, introduced REST-COAST during the event. Umberto delivered an overview of the project, highlighting recent accomplishments, challenges, and identifying areas for potential synergies and cooperation. Moreover, both projects share a common pilot site—the Dutch Wadden Sea, which provides an opportunity for future collaboration, knowledge exchange, and the sharing of best practices for coastal restoration. This collaboration extends to adaptation strategies, governance, and business-related aspects.
More about the meeting you can find here and make to sure to support REWRITE on their social media channels on X and LinkedIn.