Between 11 and 12 October 2023, the European Business and Nature Summit (EBNS) 2023, took place in Milan, Italy. The EBNS is Europe's largest conference dedicated to crafting, defining, developing and discussing truly sustainable business models with biodiversity at their core. The Summit focused on key actions that business can take to implement the targets of the Global Biodiversity Framework (GBF) and lead the transition to a nature positive society.
More than 60 experts from across Europe were present at the summit, including REST-COAST's partner Umberto Pernice (PCIM), who is also leader of the task devoted to the development of business plans for upscaling Nature-Based solutions (NbS) restoration for coastal restoration. Umberto presented a distinct case of identifying innovative business models in session 10 "Harnessing nature's potential: exploring business adoption of NbS in coastal and freshwater ecosystems" at the EBNS.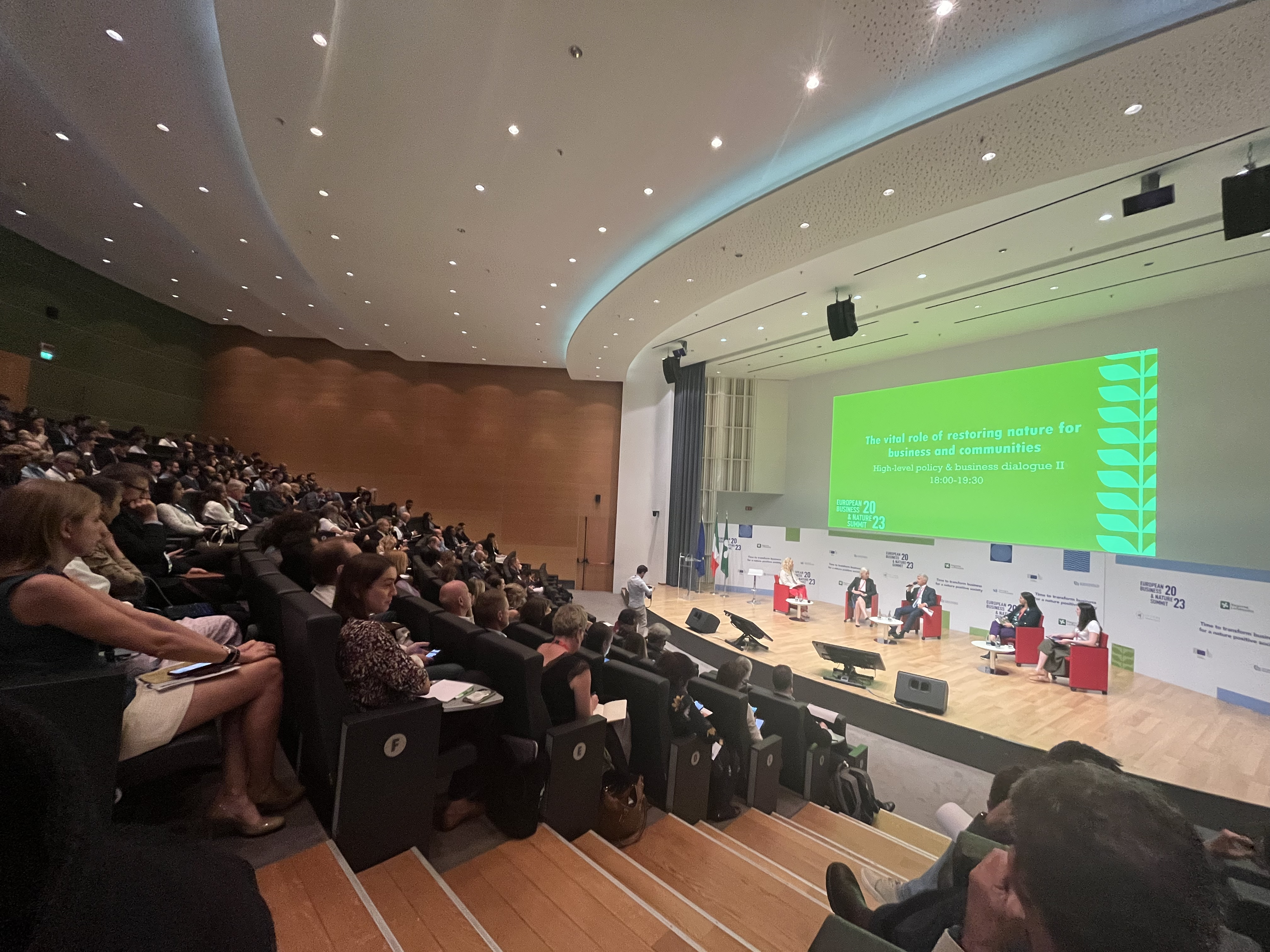 REST-COAST was presented as a best practice of co-creation between scientists, businesses, policy-makers and citizens for upscaling NbS restoration, overcoming environmental, socio-economic and technological barriers. The session gathered effective cases of business adoption of NbS in Europe and a wide audience of experts on finance and business, European and international organisations, as well as Policy Officers the European Commission (e.g. Biodiversity and NbS). The discussion occurred among the participants (influential leaders, policymakers, and forward-thinking industry experts) allowed to understand how to value nature and the numerous benefits associated with NbS implementation. The discussion helped to understand how to encompass critical aspects such as monitoring, assessing, and disclosing biodiversity and NbS, unlocking and mobilising financial resources through innovative mechanisms, and forging inclusive partnerships to expedite action on NbS restoration.
In conclusion, by participating in the summit, REST-COAST will have additional chances to collaborate with other organisations and projects and to contribute to the transformative journey towards a nature-positive world.