Recently published in the Ocean Dynamics journal, the REST-COAST paper "Evaluation of seagrass as a nature-based solution for coastal protection in the German Wadden Sea" has been developed with the active involvement of project partners Benjamin Jacob, Joanna Staneva (HEREON) and Andreas Wurpts (NLWKN).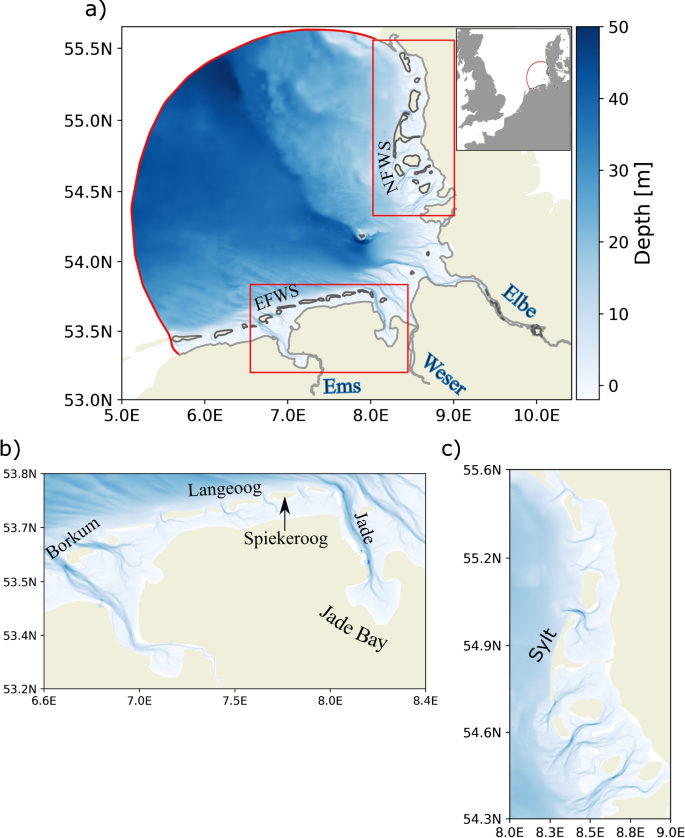 Overview map of the German Bight model domain (a, open ocean boundaries are depicted as red lines, land boundaries as grey ones) and seagrass recovery experiment focus areas, East Frisian Wadden Sea (EFWS, b), and North Frisian Wadden Sea (NFWS, c)
The recent REST-COAST research paper delves into the critical issue of how global climate change heightens the risks of coastal flooding and erosion. It emphasizes the increasing focus on nature-based solutions (NbS) for bolstering coastal protection measures in the face of climate change. The study specifically explores the present and future role of seagrass in mitigating coastal risks, focusing on the dynamic Wadden Sea area of the German Bight. The research combines field data on seagrass coverage and sophisticated simulations employing the SCHISM unstructured grid model framework. The results presented in the paper suggest that introducing seagrass meadows can significantly reduce current velocities and wave heights, potentially by up to 30% in deeper areas and more than 90% in shallower regions.
Read the full paper here or in the REST-COAST RIO collection.